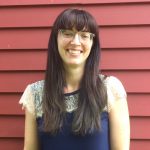 At the end of August, we added our second staff member (ever!) to our team. Please join us in welcoming Katie Carr, our new Development and Communications Coordinator! Katie served with us for the past two years as our TerraCorps Community Engagement Coordinator, and we are thrilled to have her back with us on a permanent basis. In this new position, she will be responsible for fundraising and development, as well as managing our website, electronic and print newsletters, and social media accounts.
AND, at the beginning of September, we welcomed our new TerraCorps members, Brigid and Susan! Brigid Ryan is from Chesterfield and just finished her degree in natural resource conservation at UMass Amherst and she is excited to put her education to good use as our Land Stewardship Manager. Susan Schroder has lived in Conway since her mid-20's and is a member of Conway's Agricultural Commission. As our Community Engagement Coordinator, she is looking forward to being an advocate for the land she loves and meeting like-minded souls.
Please join us in welcoming all of them to the Hilltown Land Trust team! If you haven't gotten the chance to meet them yet, join us at an upcoming event or volunteer day and say hello. You can read more about Katie, Brigid, and Susan on our staff page.