Sally Loomis
As HLT's Executive Director, Sally conducts land protection projects, oversees outreach and stewardship activities, leads fundraising efforts, maintains organizational records, and many other things in between. In addition, Sally serves as Community Conservation Coordinator for The Trustees of Reservations, representing and protecting land in the hilltowns for our affiliate as well. Sally's work is supported by staff of The Trustees, particularly in the areas of land conservation, financial management, and organizational administration. Sally has over 20 years of experience in the environmental field. For six years, she served as Deputy Director of the Environmental Leadership Program, a national leadership development organization working with emerging environmental leaders. Prior to that Sally was the Director of Green Communities for the Parks & People Foundation, a community-based nonprofit in Baltimore, MD. In her volunteer life, Sally chairs the Town of Williamsburg's Open Space Committee and leads the Williamsburg Elementary School's Farm to School Program. Sally has a Master's in Environmental Studies from the Yale School of Forestry and Environmental Studies and a B.A. in Anthropology from Yale University. She lives with her husband and three kids in Williamsburg. Sally works out of the Bullitt Reservation office and can be reached by phone at (413) 628-4485 x2.
Katie Carr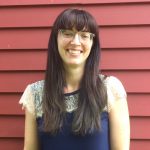 As Development and Communications Coordinator, Katie is responsible for fundraising and development, and manages the website, electronic and print newsletters, and social media for Hilltown Land Trust. Prior to being hired by HLT, Katie served as an AmeriCorps member with the organization for two years. Before that, she worked as an independent contractor, helping individuals and organizations with information management and event planning, and as a rare books librarian. Katie has a Master's in Library and Information Science from Long Island University and a B.A. in English and American Literature from New York University. Originally from Seattle, she has lived in Western Massachusetts since 2010 and loves all that the area has to offer. Katie can be reached by phone at (413) 628-4485 x5.
Tessa Dowling
For Tessa, New England forests feel like home. Taking an invasive species control internship in California and traveling abroad to Latin America were temporary adventures since the call of spring peepers or the lure of tracking animals on cross-country skis would always bring her back to Western MA. Tessa revels in canoeing, hiking, and getting really muddy, and she tries to get others, especially children, to join her in exploring the peculiarities of the natural world. This photo, for instance, was taken to show a class of three-year-olds how beavers chew down trees. Tessa has recently completed her master's degree from the University of New England in Maine studying salt marsh ecology. She is excited to serve with the HIlltown Land Trust and help protect the land she knows and loves.
Allie Foster
Four years ago, in search of a rather unorthodox educational experience, Allie stumbled across Hampshire College. From her quaint hometown of Liberty, Missouri she journeyed east to Massachusetts. Last spring, she graduated from Hampshire with a thesis focused on the Critical Pedagogy of Place and its role in environmental education curriculum design.
She is bringing her passion for place-based learning to Hilltown Land Trust. As the Community Engagement Coordinator, she is looking forward to bringing community together through education and stewardship of the land in order to promote and protect ecological diversity.
In her free time you can find her cooking up a storm of yummy vegan recipes, practicing German, brushing up on photography skills, and hiking through the beautiful New England woods.
To contact our staff by email, please use the contact form.