Date/Time
Date(s) - Jun 18th, 2023
1:00 pm - 3:00 pm
Location
Conwell Property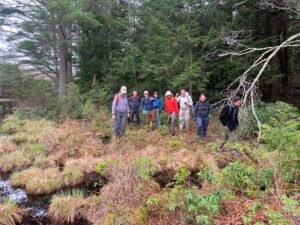 Celebrate the opening of the new loop trail at Conwell with a 2.5-mile hike! We'll visit Conwell Pond, Eagle Nest Ridge, and the beautiful and remote Jackson Swamp. This trail covers a diverse range of habitat types, and features evidence of beaver and great blue heron activity at the swamp.
The rain date for this event is Tuesday, June 20th at 1 pm, which we'll move to for heavy rains or thunderstorms.
This hike is appropriate for all ages, including children who are accompanied by an adult. Leashed, well-behaved dogs are welcome.
Accessibility
Trail Distance: 2.5 miles out and back, 355' of total elevation gain.
Slopes: Minimum 1.75%, Average 14%, Maximum 42% – This trail is moderate to strenuous with multiple steep sections.
Trail Surfaces: Forest trails and old woods roads with potential for roots, rocks, and mud.
Pace: Slow-moderate (1.5-2 mph)
Seating: No benches available on the trail, but we'll have opportunities to pause and catch our breath.
Bathroom: There are no bathroom facilities at this location.
Parking: Gravel and dirt trailhead with unmarked parking spaces, OR grassy lawn with unmarked parking spaces.
Public transportation: Public transit is not available to the trailhead. Contact us if you're interested in coordinating a carpool.
To be respectful of those with allergies and environmental sensitivities, we ask that you please refrain from wearing strong fragrances.
We're happy to discuss your access needs for this event! For questions and accommodation requests, please reach out to sarah@hilltownlandtrust.org or call  (413) 628-4485 ext. 6.
Cost
This hike has a sliding scale suggested donation of $0-25. Your donation supports future programs like this at HLT.
To become a member of Hilltown Land Trust for the year, make a gift in any amount to support our efforts to conserve and care for ecologically valuable land in the Hilltowns.
Questions?
Please reach out to sarah@hilltownlandtrust.org or call  (413) 628-4485 ext. 6.
Covid Policy
Please read the COVID event policy before filling out the registration form.
Registration
This event is full, if you would like to be added to the waiting list, please email sarah@hilltownlandtrust.org.