Date/Time
Date(s) - Mar 7th, 2020
6:00 pm - 8:30 pm
Location
Stanton Hall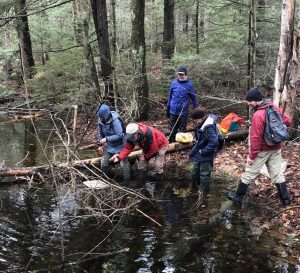 Would you like to learn more about the critters living in the pools in the woods behind your house?
Would you like to protect this vital habit, critical to many wetland species and threatened by development?
Come listen to a vernal pool presentation by local Naturalist Charley Eiseman and help us celebrate the successes from last year's Vernal Pool Plunge:
–Representatives from 16 Hilltowns are now trained in vernal pool identification and can act as experts in their towns
–Nine vernal pools have been protected under the state certification process in Westfield River Watershed
After the presentation, there will be a Q&A session for trained representatives and community members interested in getting involved with vernal pool groups and spring expeditions.  If you think you have a vernal pool on your land, speak up, there may be a local expert who can visit and tell you more.
Refreshments will be provided.
This event is FREE but please RSVP by contacting Meredyth Babcock (westfieldriver@gmail.com) or Tessa Dowling (tessa@hilltownlandtrust.org/ 413-628-4485 ext. 4)